The process of learning with German Uncovered is as natural as turning the pages of a gripping story, because this course is a story, not a textbook.
I created every explanation and every new word that I teach you on the basis of Der Mann mir dem Hut.
In practice, that means you will start in a very unusual way..
1) Immerse yourself in the German Story
You'll begin by immersing yourself in the first chapter of Der Mann mit dem Hut.
By reading the story and listening to the accompanying audiobook, you'll begin with an immersive experience that builds your ability to understand written and spoken German from the start.
Unlike a regular German course, we don't ask you to understand what you're reading at first.
Instead, your job is to simply immerse yourself and enjoy the language!

After spending time with the story in German, you can check your understanding with a full English translation, so you can follow the plot and keep up with what happens on the page.
2) Discover the Secrets Hidden in the Text
After spending time reading and listening to the story, it's time to spend time with a teacher and uncover how the German language emerges from the pages of our story.
I will teach you through over 80 personal video lessons. Based on the proven method that puts story first, you'll be amazed to see and hear the German language come alive with each video.
You'll learn in three sections for each chapter:
Cognates
Discover hundreds of German words that share a root with the English language, making it so simple for you to remember them.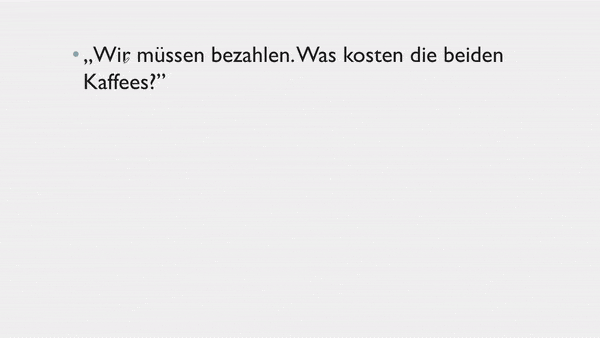 Vocabulary
I'll take key German words and phrases that you have encountered in the story and guide you through them so you can discuss more new topics after every story chapter.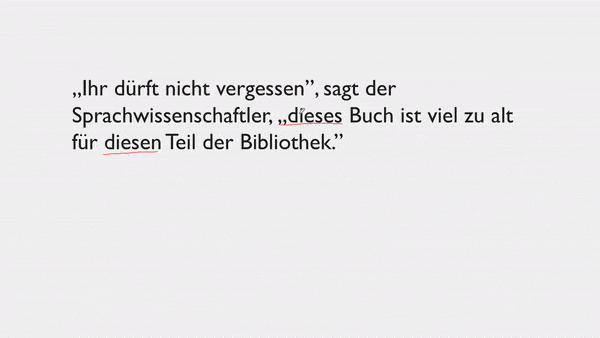 Grammar
Learn grammar in a natural way, discovering structures from the story that explain rather than instruct.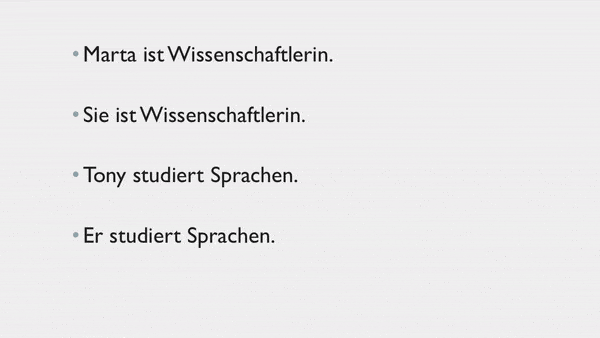 In this course, you will not be asked to memorise tables of conjugations and rows of vocabulary before you can enjoy the language.
Here in German Uncovered, you'll understand first and study only what you need.
The video lessons are friendly and straightforward, and our interactive technology means you'll get the benefit of a real lesson any time you like.
Even though I'm your German teacher for this entire course, you'll soon realise that it's you who is learning independently.
You will notice that you already are learning German from our story, and my explanations help you take what you learnt and put it all together in your own sentences and expressions.
Throughout the course, you'll benefit from my years of university-level teaching experience.
Plus, you'll also hear from Olly as he joins me to share useful tips about staying motivated and learning as quickly as possible.
3) Understand German on a Deeper Level
If you're thinking "wow, this all sounds like so much fun", you're absolutely right. Like our student Tina, chances are you'll move through the course and love the story you are reading in German.
After each of our lessons, I give you the tools to go into depth and consolidate what you just learnt through detailed workbooks of exercises.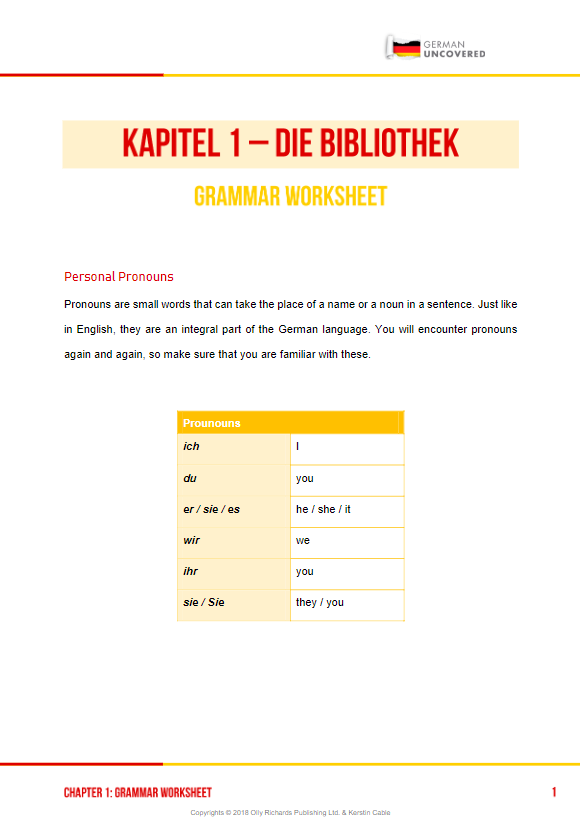 At every level, these workbooks help you build your solid foundation in German and get yourself ready to progress at your own pace.
The workbook exercises are not the usual dry textbook phrases, either. Most exercises are based on the story you have been reading.
This way, you'll engage in more meaningful learning and find it easier to remember more German in less time…without having to study!
4) Start Speaking German

After you have read the story, listened to it, and practiced your new vocab and grammar, most textbooks will say "that's it" and have you move on to the next level.
But here in German Uncovered, the goal is to help you do what you dream of doing: to speak German freely, fluently, remembering all the words as you put together beautiful sentences with great pronunciation.
So how does the course help you get over the awkward speaking period so you can start talking to German friends, family and colleagues?
There are two crucial steps:
Pronunciation Training with my 20 training videos and explanations, helping you focus on every single one of the important sounds of the German language and practice them immediately. In these videos, you'll learn the same techniques that I used to achieve my own native level accent in the English language.
Conversation Starter Kits: In German Uncovered, you will find 20 handy kits full of speaking prompts designed for two people. These packs are written for one learner (you) and one teacher (your tutor or conversation partner). They systematically progress you through increasing levels of conversational ability from the basics to B1 intermediate level.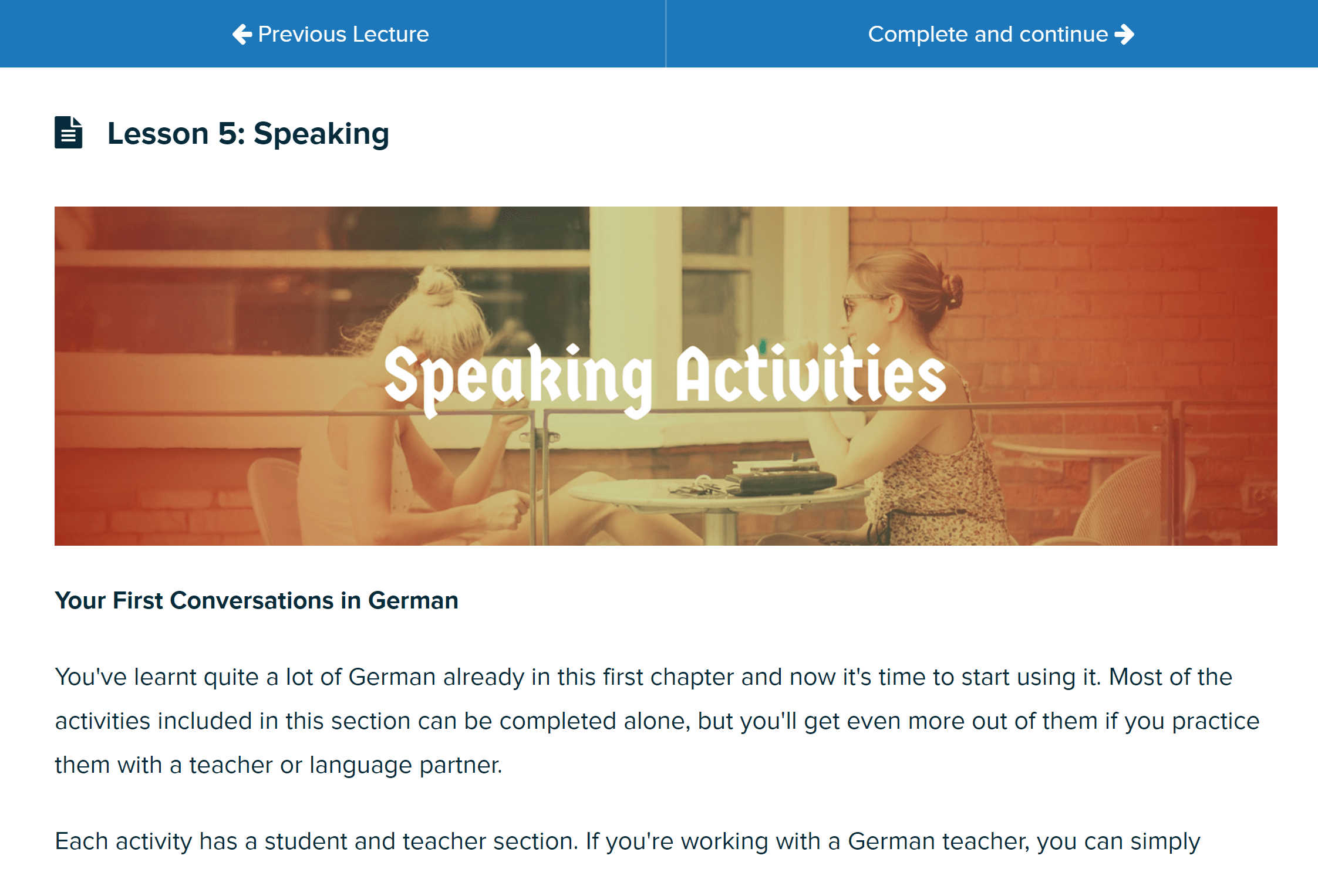 Writing these conversation exercises was one of my favourite parts of making the entire course for you, because I was able to infuse them with a sense of humour and create entertaining, exciting activities for you at every step of the way.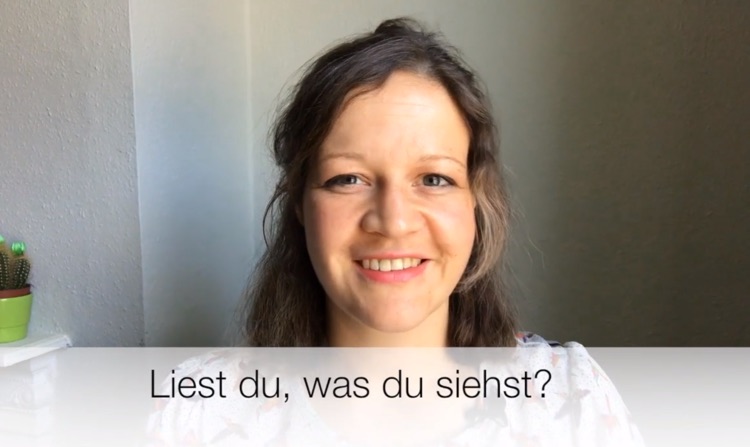 From finding your way in a new town to helping exasperated tourists, you'll soon find yourself comfortably chatting in German with native speakers.